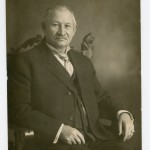 A couple of years before he died, Col. Joseph Askew commented on the town he helped found—Menahga. Joseph built the first frame building in Menahga (which was also the town's first hotel), and one of the first (if not the first) sawmill in town. He was also the town's first mayor. In short, Menahga was a town in which he had invested so much of his time, money, and effort as a younger man. Despite his investment in the development of the town, Joseph moved to Wadena shortly after 1900. In the summer of 1908, a couple of years before he died, Joseph was asked to discuss how the village had changed over the years.
I haven't had the opportunity to see the original of this article yet, but am instead relying on a transcription made by Rebecca Komppa, a local history journalist in the Menahga area.

July 3, 1908 (from The Menahga Journal)
from a transcription by Rebecca Komppa of the Sebeka-Menahga Review Messenger
Praises Menahga
Col. Joseph Askew of Wadena praises the town
The following taken from the Wadena Pioneer Journal tells how this village looks to others: Col. Joseph Askew visited at Menahga last week and he found such a transformation in his old home town that for a time he thought he was in some city of considerable size. In speaking of his visit Col. Askew said:
"I believe that Menahga is making more rapid strides forward than any other town in Wadena county or for one hundred miles around. The town is prosperous and this means, of course, that the farmers living in that vicinity are correspondingly prosperous. I saw wonderful transformations being worked in the town. Old buildings are being torn down and replaced with good ones, every thing unsightly in the town is being removed and the place is taking on an air of enterprise and thrift that is apparent at first glance. Much cement side walk is being laid and the council has ordered cement crosswalks. The water system for fire protection is the best obtainable. There is an engine and a tank under the fire house with a capacity of 1,200 barrels of water.
"What I was most interested in, however, was the dairy industry in the territory tributary to Menahga. Last month the farmers of Menahga were paid $7,200 for cream. I am told that the daily payments for cream ran on an average of close to $500. There are three buyers of cream in the town aside from the local creamery. Menahga is all right and is going to be better. A new store has tarted recently and is doing a fine business.
I was very much pleased to see the progress the old town is making."
---
The image below is from a photo postcard of Menahga, circa 1908:
Related Posts via Categories