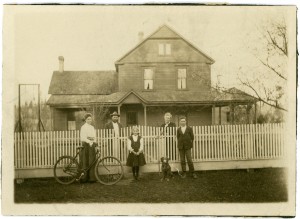 The photo that is the focus of this post is a charming family portrait, and one of the favorites in my collection. You might recognize it as the uncropped, unrotated image from which this site's header image is derived.
The house is in the Olympia, Washington area. Since I'll be heading up that area to do some family history research in late August–early September, I figured this would be a good time to post something about William N. Bailey and his family, some of my Olympia-area ancestors.
This post won't go into much depth about the Bailey family, but I'd like to give you enough to that you know at least a little about everyone pictured in the photo. I'll write more about the house itself in a later post.